---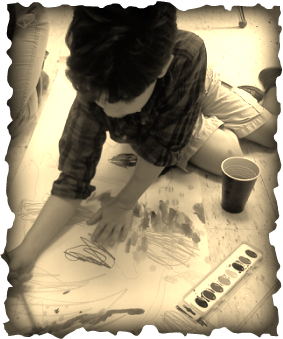 "Being a teaching artist is extremely rewarding." affirms Lee. Having the ability to transmit the love of the arts onto children of ALL abilities is truly a gift, one Lee loves sharing with her students. Lee works with special education classes and inclusion classes by integrating the arts in the lesson plans. "My goal as an artist was not only to paint and sell my work, I wanted to extend an experience and a knowledge that we ALL have a purpose that is invaluable for ourselves as human beings and humanity. To be able to use the arts and improve the quality of life of a child is genuinely art with a purpose!"

What is Expressive Arts Therapy?

Expressive Arts Therapy is defined by the International Expressive Arts Therapy Association (IEATA); the expressive arts combine the visual arts, movement, drama, music, writing and other creative processes to foster deep personal growth and community development. IEATA encourages an evolving multimodal approach within psychology, organizational development, community arts and education. By integrating the arts processes and allowing one to flow into another, we gain access to our inner resources for healing, clarity, illumination and creativity.

Expressive arts therapy is not only for individuals with special needs, it is for EVERYONE. A unique way to explore and learn about yourself and your limitless abilities! Find below pictures of students, of all ages and all abilities!

---
---
Expressive Arts & Crafts